LEAP HR: Retail is the definitive annual event for ambitious, future-focused people leaders from across the industry to discover how to redefine the way we work in retail. Hear how HR leaders from trailblazing brands are enabling their organizations to adapt to fast-changing consumer behavior by finding & energizing the top retail talent that will transform the customer experience in-store and online.
The Leap Difference
We believe the traditional conference format is not fit for purpose, so we've ripped it up and started from scratch. When you look inside the following agenda, you will see three main types of session:
Discover sessions offer you the chance to hear the most admired people leaders in Higher Education share the stories of what they've done to solve their most pressing HR challenges
Develop sessions provide you with the unique opportunity to have your burning questions answered in a room full of your peers and move beyond the 'what' and the 'why' to get to the 'how'
Action sessions are designed to help you work with your team to set a clear, bespoke action plan of what you are going to change when you get back to your business to ensure you get a fast RO
Join your peers to be part of 3 days of the most impactful stories on retail HR transformation. 2020 is your chance to dive deeper on: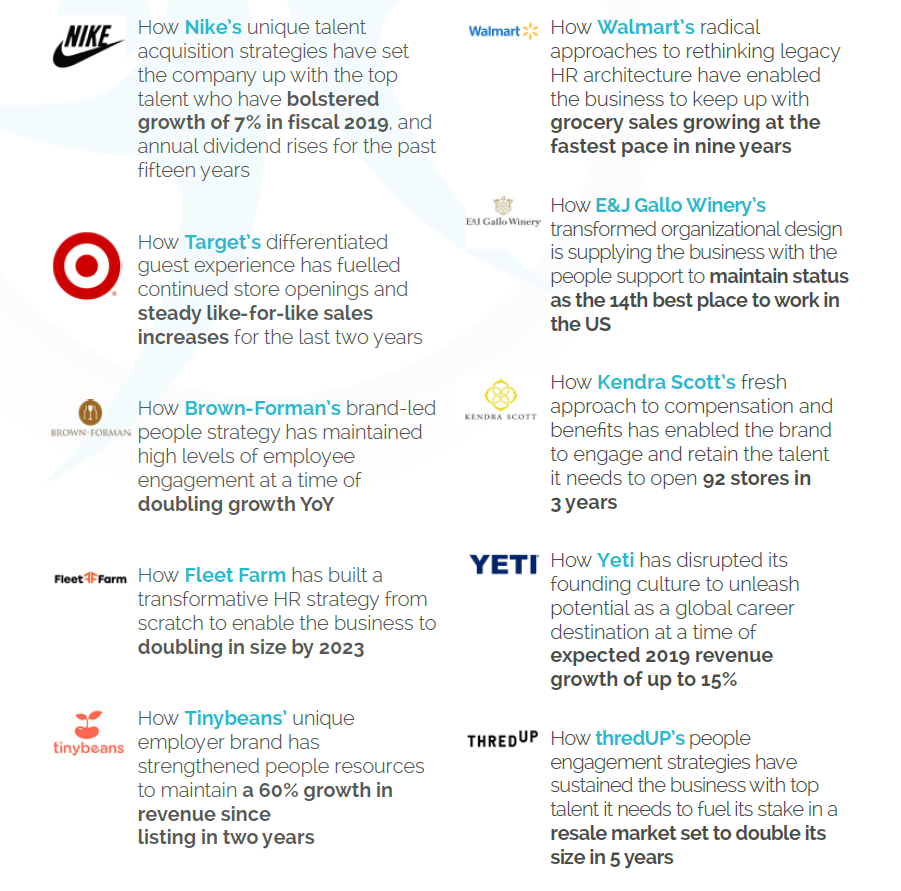 Whether you're responsible for your organization's strategic thinking or have a stake in the future workforce of retail, join your peers to deep dive into the most pressing challenges on your agenda.
Both days include networking drinks and dinner – so you can make lasting connections, along with actionable insights. Full info here.
Your 2020 LEAP HR: Retail speaker roster includes only the people leaders whose HR strategies have enabled business-level transformation.
See above and for full details, download the event guide.
Following the first day of LEAP HR: Retail, join us for an exclusive guided visit to the thriving retailer's flagship store, followed by happy hour at Whole Foods Market HQ.
Take inspiration from how WFM's forward-thinking training strategy for new hires has transformed employee & customer experience and see for yourself how impactful people strategies can be.
| | | |
| --- | --- | --- |
| "There is no Retail-specific HR forum quite like LEAP HR: Retail" | "Only LEAP HR: Retail offers a vital chance to find new ways to affect systemic change." | "LEAP HR: Retail was the most relevant, thought-provoking and inspiring event I've been to." |
| co-CHRO, GAP | Head of HR, Patagonia | Head of People, Warby Parker |
LEAP Retail Austin is part of the LEAP HR series. LEAP HR exists to create a movement of corporate heroes changing their companies from the inside. We do this by providing a place where ambitious HR leaders can surround themselves with those taking the most radical leaps to achieve people and culture change.
We know that HR can change the course of companies, careers and lives. But we also know that for those making that a reality, it can be a lonely and thankless task. That's where we come in. We provide the spark that brings ideas to life and leave those who take part in LEAP HR events inspired, energised and ready for action.